Alkaline Water Filter
The ultimate drinking Ultratec Water Treatment Company Uae Alkaline Water Filter, helps you stay hydrated and removes bad tastes, odors, and impurities from tap water.
7 Stages Evo-pure USA Alkaline RO Water Filter System For Home
Have healthy, clean, Alkaline water Filter at your home by converting the tap water.
Alkaline Home RO Water Filter
Specifications:
7 Stage Alkaline R.O. water Purifier
10" Sediment Filter
10" GAC Filter
10" Carbon Block Filter
Booster Pump
RO Dow Membrane
Post inline GAC Filter
Taste & Odor Filter
Mineral Filter
Alkaline Filter
Stand for the filtration Unit
Filtered Water Storage and Pressure Tank
Benefits of Using Alkaline Water:
1. Helpful for Detoxification
2. Reduces Acid Reflux
3. Helps Improve Bone Health
4. Provides Antioxidant
5. Essential for Heart Health
Alkaline Water Purifier
Ultra Tec Water Treatment Company In Uae Alkaline RO water purification system Ultra Tec RO System offers 100% pure beverage. The FILM TECH membrane operates by rejecting impurities and flushing them bent drain. This eliminates 98% of all dissolved impurities, heavy metals, salts, viruses, bacteria, cysts, fluoride & chloride, chlorine, taste, odor, and chemicals leaving only purified water. Only pure & best tasting water from your water system.
Features of Al-Kaline 8 Water Purifier:-
10" Sediment Filter
10" GAC Filter
10" Carbon Block Filter
Booster Pump (110/220 V, 50/60 Hz)
RO Dow Chemical Membrane
Taste & Odor Filter
How Does an Alkaline Filter Work?
If you would like to possess the simplest quality beverage – you ought to consider using an alkaline water filter as a part of your water treatment system reception or in your home of labor. Research has shown that alkaline water is one of the simplest beverages and may be better quality than expensive drinking water.
So what does an alkaline filter do exactly? This sort of filter, called an ionized filter, produces a chemical process within the water. In simple terms, the filter separates the water into two types: alkaline water and acidic water.
Alkaline Water Filter – smaller clusters
The alkaline water filter produces smaller H20 clusters; thus, your body can digest and absorb them more easily, providing quicker and enhanced hydration because it carries a greater quantity of energy-rich oxygen and a better taste. Also, drinking alkaline water rather than regular water offers some interesting health benefits (which is perhaps why it's popular in Singapore), such as:
Lower levels of blood glucose
Less probability of allergies
Higher ability to combat damage caused by free radicals
Higher levels of energy
Acidic water & its use
The second sort of water it produces is acidic water. This is often potentially harmful to your body because it can create an imbalance within your body's pH level, so you should not drink this. But acidic water has some very useful applications due to its ability to neutralize germs; it's ideal for laundry dishes, shampooing hair, cleaning wounds, and removing stains.
So, you'll enjoy using an alkaline water filter Singapore has available in two ways: you get a continuing supply of the healthiest beverage possible, and you'll also use the acidic water produced as a part of the purification process as a sterilizing and cleaning agent for private grooming and household cleaning applications.
What is the simplest filtration system?
For the best results, you ought to use an alkaline water filter as a part of a multi-component water purification system that eliminates undesirable contaminants and microbial bacteria from your beverage supply. Remember, an alkaline filter doesn't purify the water – it separates it through a chemical change into two types – alkaline and acidic – so it's still desirable to purify the water using other water purification products.
While an alkaline water filter offers many health benefits, your priority should be to purify your beverage to be safe and clean. The filtering out of probably harmful contaminants and other unwanted substances should be the primary step in your water filtering system.
Luckily, you'll easily achieve this because most good-quality alkaline water filters also include carbon or ceramic filtration elements, ready to eliminate undesirable impurities and chemicals from water. This filtration procedure ensures that your water is clean and safe to drink – the alkaline filter will then transform it into a beverage with more benefits for your health and overall well-being, not to mention improved taste.
Many regular water purification systems produce clean and safe beverages. But an alkaline filter takes water treatment to a subsequent level – providing you with an oxygen-rich, easily absorbable, and energizing drink whenever you want. You'll quickly experience the advantages to your health and energy levels!
Water is one of the main essential components of our lives. It plays an excellent role in keeping us healthy and alive. However, drinking clean and pure water is also important to stop our bodies from dangerous water-borne diseases. If you're trying to find a good quality water purifier, you should buy an alkaline one. Alkaline water purifiers help you and your family with germ-free and safe water.
Aside from eliminating harmful chemical impurities, these purifiers balance the pH levels to supply your body with the specified nutrition. Because of online shopping, you'll buy these cleaners from the comfort of your home. Trusted brands like Ionix, Ultra Tec, ShoppoWorld, Wellon, and Bharat Traders have a huge range of water purifiers to settle on from. These cleaners have a sensible design that seamlessly fits almost any kitchen interior. They're constructed using high-quality food-grade material that ensures great-tasting water.
Keep your drinking water free from metal salts, chemicals, and impurities while keeping essential minerals for your body with our advanced alkaline filtering process that uses reverse osmosis.
7 stages of Filtration of Alkaline Water Filter:
Stage 1 Pre-filter 5 microns to remove suspended material like sediments, insects, fiber, rust, mud, etc.
Stage 2 Granular Coconut Shell activated charcoal with an Iodine Value of 1100 to scale back chlorine, color, and odor and absorbs volatile organic components from feed water.
Stage 3 Activated Coconut shell carbon Block filter with an Iodine Value of 1100 to soak up total chlorine, odor, color, and organic chemicals from feed water.
Stage 4 TFC membrane with pores of 0.0001 mics. Removes water contaminants like heavy metals, excess salt, and waterborne microorganisms like viruses, bacteria, etc.
Stage 5 Post Carbon filter eliminates bad taste and order, improves water taste, and enhances anti-bacterial function by silver granular activated charcoal.
Stage 6 Alkaline Filter – Increases PH level, reduces Oxidation Reduction Potential of the water to quite -350 Mv, Removes Arsenic, Aluminium, Cadmium, Mercury, and Lead from the water, Removes 99 eubacteria (Coliform and other bacteria) Breaks water into small clusters for better absorption.
Stage 7 Anti Bacteria Filter- Virumug for the Double protection
Mineral Filter
Ultra Violet (UV) Filter
Bio Cera Alkaline Filter
Stand for the filtration Unit
Storage Tank 10 Ltr.
ALKALINE WATER FILTER – WATER TREATMENT COMPANY UAE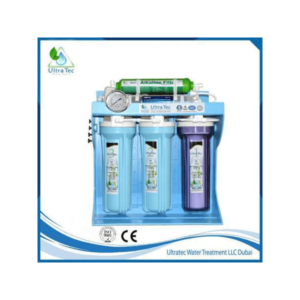 7 Stages Evo-pure USA Alkaline RO Water Filter System or Alkaline Water Filter For Home Have healthy, clean Alkaline water at your home by converting the tap water.
Product Brand: Ultratec
Product Currency: aed
Price Valid Until: 2030-06-14
Product In-Stock: InStock