A Containerized RO Plant is a complete water treatment system self-contained within a shipping container. They are pre-assembled, factory tested, and can be easily transported to any location. Containerized RO Plants are ideal for small to medium-sized businesses that need a reliable and cost-effective water treatment solution.
A containerized RO plant is a self-contained unit that includes all the necessary components for operation. They are often used in remote locations or where space is limited.
Containerized RO Plants – Containerized Sea Water RO Plants:
As a standard feature, our SWRO plants are designed with the most up-to-date and efficient energy recovery system "The Pressure Exchanger" PE, using less than 3.0 kWh/m³ or 11.4 kWh/k-gallons, which is a 60% energy reduction in comparison to a conventional SWRO plant using 7.0 to 8.0 kWh/m³ ~ 26 to 30 kWh/k-gallons.
Remote control system for off-site monitoring and adjustments:
The RO water plants can be operated remotely and by taking advantage of this function, no daily on-site operator is required as all flows can be monitored and supervised, as well as the plant will shut down automatically should anything fail. The flows from the excellent pump, the booster pump, and the high-pressure pumps can be adjusted remotely by signals to the frequency converters. Water temperature, salinity, and pressure in different flows can likewise be monitored and historical data is saved for printout graphs showing the plant operation at any given time.
We are a Supplier of all Kind Containerized RO Plants, Containerized Sea Water RO Plants in Dubai UAE, industrial water treatment plants, drinking water, brackish water treatment, well water filtration, irrigation water plants, and home water purification systems.
Suppose the purification power of a large-scale reverse osmosis plant. That power can now be at the fingertips of anyone anywhere in the world and requires only the space of a forty-foot container. A Pure Aqua CRO Series Containerized Reverse Osmosis System may be a self-contained, turnkey system that will function on the go or as a permanent water treatment plant, ready to start pumping high-quality products each day after arrival on-site. Our containerized reverse osmosis systems are made to order, meaning your system will be specifically tailored to your water treatment requirements, containing all the amenities your reverse osmosis system could need.
Containerized reverse osmosis systems are longer-term in membrane water treatment. Capable of manufacturing up to at least one million gallons of water per day from one forty-foot container, with built-in pretreatment and membrane cleaning, containerized systems are redefining the standards of water treatment plants worldwide.
Take the benefits of an industrial reverse osmosis system – high rejection of metals, minerals, and chemical contaminants, a high recovery rate, and durable built-to-last design – and make it portable, ready to be transported anywhere within the world where potable water could also be necessary. of these features are often yours additionally to a set of advantages unique to containerized systems.
Each of our CRO series containerized reverse osmosis systems starts with a water need – your need and goes from there. At Pure Aqua, we work directly with our clients from the bottom up, keeping them involved in the development and style of their containerized system every step of the way. the top product they receive may be a unique system tailored to their needs and specifications. a number of the unique features that will be installed during a containerized system include insulation and centralized heating and cooling, keeping your industrial reverse osmosis system safe from even the harshest elements. A water purification plant is often available anywhere you'll ship a twenty or forty-foot container.
Call Pure Aqua Inc. today to ascertain how a CRO series containerized reverse osmosis system can revolutionize how you provide potable water.
Water Treatment Plant Containerization
Ultra Tec supplies any sort of water treatment during a containerized version, from desalination plants to emergency resonance units. Ultra Tec designs ready-to-use containerized desalination plants that will produce up to 1000 m3/day of beverage from different sources and with varying salinities.
The desalination core process is reverse osmosis where semi-permeable membranes are used.
Why containerization?
Containerized plants have many advantages over built-in plant room installations:
Plug-and-play unit
Quick installation
Limited civil work (only container foundation)
Small footprint
Easy transportation
Mobile: valid for construction sites
Turnkey delivery: piping, cables, air con
Containers installed on site
Containerization of a water treatment plant doesn't only include the availability of a container, it includes the entire installation of the plant:
Connected piping between equipment pumps, vessels, skids, tanks
Cabling and wiring of pumps and instrumentation inside the container to the central control cabinet.
Container equipment
We can deliver our systems in insulated (20 or 40 ft) containers. Containerization includes all piping and fittings connected and all cables and wires connected to the instrument and control cabinet. this is often a "plug and play" unit supply.
The container will be mounted with one side entrance, one inlet/outlet (terminal point), one roof hatch, one side entrance, and floor drainage. A sunroof is often offered for the asking to limit the temperature within the container if extreme conditions need to be considered.
The container is often air-cooled for the asking. The Airco may be a split unit and therefore the outdoor part is going to be placed next to the container.
Each plant is fully 3D-design before construction. The chemical room separated from the central equipment room
The design of the water treatment plants is usually custom-made and is subject to modifications counting on the water quality.
Reverse Osmosis units often required pre-treatment for the subsequent parameters:
Suspended solids
TOC, COD/BOD, hydrocarbons
Iron and manganese
Hardness
Ultra Tec provides all types of pre-treatment required before your RO, consistent with your water analysis and process requirements.
Plant Size / Standard container
Depending on the plant size, containerized plant in 20 or 40 ft container(s) is available.
CONTAINERIZED RO PLANTS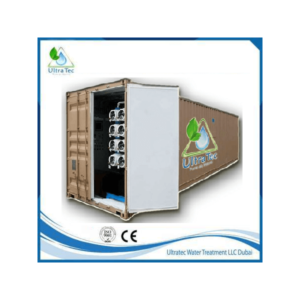 A Containerized RO Plant is a complete water treatment system that is self-contained within a shipping container. They are pre-assembled, factory tested and can be easily transported to any location. Containerized RO Plants are ideal for small to medium-sized businesses that need a reliable and cost-effective water treatment solution.
Product Brand: Ultratec
Product Currency: aed
Price Valid Until: 2030-06-14
Product In-Stock: InStock