A new portable sea water RO system has been developed that can be used to purify salt water for drinking. The SystemSystem is designed for use in remote areas without access to clean water. The SystemSystem can purify up to 200 gallons of salt water daily and is powered by a 12-volt battery. The SystemSystem is easy to use and requires no maintenance.
In recent years, the popularity of Ultratec Water Treatment Company Uae's portable sea water RO system has increased dramatically. There are many reasons for this, including the fact that these are relatively inexpensive and easy to install. Additionally, portable sea water RO system offer some benefits, including removing salt and other impurities from seawater. As a result, they are an ideal option for those who live in coastal areas or frequently travel to such areas.
In today's world, water is more important than ever. With climate change and the increasing population, the demand for clean water will only grow.portable sea water RO system offer a way to have clean water anywhere there is a saltwater source. These systems are perfect for those living in coastal areas or looking for an emergency water supply.
Ultratec Water Treatment Company Uae product is a portable sea water RO system. It is easy to set up and can be used anywhere. The SystemSystem removes salt, impurities, and contaminants from the water, making it safe to drink. The benefits of this product are that it is convenient, easy to use, and effective at purifying water.
The product is a portable sea water RO system. The main features are that it is easy to use and maintain and very effective in removing salt from seawater. It also has a very good reputation for quality and customer service.
Advantages of portable sea water RO system
The advantages of this product are that it is very portable, so you can take it with you when you go camping or hiking near the ocean. It is also very affordable, making it a great option for people on a budget.
This product benefits customers by providing fresh, clean water without worrying about salt content. It is also very easy to set up and use so customers can use it immediately.
Portable Sea Water RO System
From small to industrial-sized, we provide a full range of both standard and custom-engineered Seawater Desalination Reverse 
Osmosis Systems for applications starting from yachts, cruise ships, and boats to municipalities, hotels, resorts, military, off-shore platforms, and various industrial applications.
We've supplied complete seawater desalination SWRO systems with Energy Recovery, Data Logging, Containerized Systems, Purification system, Explosion Proof Systems, Portable Systems for operation, and lots more, from 150 gallons too many gallons per day.
Portable SWRO System 7,600 GPD
PROCESS
Application: beverage for Remote Area – Watermaker
This is model SW-7.6K-804 from our SWC Series.
SWRO System
Microprocessor instrument panel
5- and 25-Micron Pre Filters
Diaphragm Seal Pressure Gauges
Duplex SS High Pump
Chemical Dosing Pumps
Factory Tested for Reliability and Designed to figure Seamlessly
Compact Design & Energy Efficiency
Long Service Intervals and straightforward Maintenance
Longer Membrane Life
High Water Recovery
Huge Savings on Hauling Water to Sites
CHALLENGES
Water Challenges: As a part of our initiative concerning this project, delivering clean water through our custom-designed commercial watermaker systems was required in several locations. Contaminated water from exclusive water sources like seawater is drawn into our SystemSystem, requiring purification of the polluted water source before releasement on-site. Pure Aqua's commercial watermaker systems are manufactured to supply industrial sites with plenty of efficient and economical water treatment systems for industrial use whilst maintaining much but 100 ppm of common salt.
SOLUTIONS
Applied Solution: The definition of water desalination generally considers the assembly of fresh or potable water from seawater. However, scientists also commonly employ the term to explain the desalting of brackish or seawater. We just completed the production of an SWRO System for a chemical treatment plant in Peru. The capacity is 7,600 GPD, with a TDS level of 38,000 PPM. Includes all pre and post-treatment items:
Pre-chlorination
Automatic multimedia filter
Dechlorination dosing system
Antiscalant injection system
Calcite filter
Post-chlorination dosing system
ADVANTAGES
Low operating expense, compact size, reduced footprint, and top-quality freshwater production.
Features
Electric Free

Portable

Trolly Mounted

Small In Size
This Unique Seawater RO System does not need electricity and is specially designed for small boats, fishing boats, camping, and islands. It converts direct seawater into sweet drinkable water without a Feed water tank and does not require any separate storage tank, which makes the SystemSystem unique. This SystemSystem has its own storage tank and smart faucet.
Cost-effective that comes fits every budget.
Feed Water Requirements
Self Priming Distance 5M
Feed Water TDS Seawater
pH restriction 2-12
Feed Water Temperature 45°C
System specification:
Dimension (L)400mm-(W)470mm-(H)760mm
Weight 36Kgs
Motor 2HP
Gasoline 2T Engine Oil (25:1)
Gear Oil Type 10W/40W
In/Out Diameter (Feed) 1/2″(Drain) 3/8″(Pure) 3/8″
Control Oil Regulator
Pressure gauges Operating Pressure Guage (1000P)
RO Membrane Housing FRP-2521-1000P
PORTABLE SEA WATER RO SYSTEM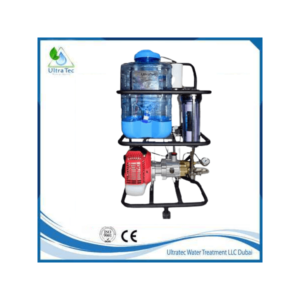 A new Ultratec Water Treatment Company Uae portable sea water RO system has been developed that can be used to purify salt water for drinking. The system is designed for use in remote areas where there is no access to clean water.
Product Brand: Ultratec
Product Currency: aed
Price Valid Until: 2030-06-14
Product In-Stock: InStock