The Ultraviolet water Sterilizer 36 GPM is a powerful and compact UV water sterilizer that uses UV light to disinfect water. This unit is ideal for small to medium-sized homes or businesses and can be used on most types of water, including tap water, well water, and even rainwater. UV light kills bacteria, viruses, and other harmful microbes in the water, making it safe to drink. The Sterilizer also reduces chlorine levels in the water, making it safer for people with sensitive skin or allergies. The unit is easy to install and requires little maintenance, making it a great choice for those who want a hassle-free way to improve their water quality.
Features of Ultraviolet water Sterilizer 36 GPM
The Ultraviolet water Sterilizer 36 GPM uses ultraviolet light to cleanse water of harmful bacteria and viruses. This product is great for those who are concerned about the quality of their water and want to ensure that it is free of contaminants. The Sterilizer is easy to use and can be placed in any standard-sized home water line. It is also affordable, making it a great option for those on a budget. The Sterilizer has a flow rate of 36 gallons per minute, making it ideal for large families or businesses.
| | |
| --- | --- |
| Dimension LxWxD (mm) |  980X230X280 |
|  Electrical Volts |  110/220V / 50/60HZ |
|  Flow Rate |  36GPM |
|  In/out Port |  1 1/2″ |
|  UV Lamp (PC) |  3 |
|  Quartz Sleeve (PC) |  3 |
|  Lamp Failure Device |  YES |
|  Ambient Temperature |  2-40oC(36-104oF) ) |
|  Lamp Watts |  40Wx3 |
|  Chamber |  SS304 |
|  Accumulated Timer |  36GPM-HT, HTM |
|  UV Light monitor |  36GPM-HTM |
What is an Ultraviolet water Sterilizer
UV Water Sterilization technology seeks to use an equivalent process to nature to supply water that's completely safe. In nature, the Sun produces UV rays which have a germicidal effect on disease-causing pathogens in water. When these contaminants are exposed to UV light, they're rendered harmless, and therefore the output water is taken into account and disinfected.
Ultra Tec ultraviolet water purification systems kill 99.9% of all bacterial contaminants and provide clean, safe beverages, far exceeding Health Department standards for potable water.
UV water sterilizers use several stages of filter to get rid of sediments right down to 5 microns removing particulates. A second-stage Carbon filter removes odors and particles right down to 0.5 microns. The UV light stage saturates the water with high-dose UV light at wavelengths that kill pathogens. Together the UV water sterilizer system is superb for quality of construction, and effectiveness in treating your water to get rid of unwanted and unsafe elements. The UV water treatment system is right for homes, businesses, and remote sites.
UV water sterilizers are often purchased as components and as complete systems mounted, integrated, and prepared to travel. solar energy for water treatment units is below. Use solar and wind energy at remote sites to power UV water sterilizers to wash water on-site from liters to thousands of liters per hour.
Low flow units are available in one and two gallons per minute, which are utilized in normal residential installations. High-flow units also are offered for larger residential and commercial applications. See chart for sizing.
Ultraviolet water Sterilizer ( 24 GPM )
Ultraviolet water Sterilizer ( 60 GP )
Ultraviolet water Sterilizer ( 48 GPM )
Ultraviolet water Sterilizer ( 36GPM )
Benefits of UV Sterilizer
Compact and straightforward to put in
Completely automatic
No Chemicals required
Low maintenance
Low operating expense
High performance
No added taste or odour
Recommended Uses
Food processing
Hotels & Restaurants
Schools
Pollution abatement
House stand-up supplies
Aquarium water system 
groundwater treatment
water system stations
Hospitals & Laboratories
Pharmaceutical industry
ULTRAVIOLET WATER STERILIZER ( 36 GPM )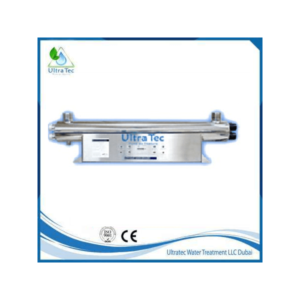 UVUltraviolet 36 GPM. Ultra Tec UV-36GPM-HT crushes hurtful microorganisms contained in the water and makes the water ok for use. Made of great tempered
Product Brand: Ultratec
Product Currency: aed
Price Valid Until: 2030-06-14
Product In-Stock: InStock