The 4000 Sea Water RO Plant is a reliable and efficient way to produce freshwater from seawater. It features a durable design that can withstand harsh conditions, as well as an automatic self-cleaning feature that keeps the system running smoothly. The plant also has a low energy consumption, making it an environmentally friendly option. Customers can benefit from the plant's high-quality freshwater production, as well as its low maintenance requirements.
Benefits of 4000 Sea Water RO Plant
The 4000 Sea Water RO Plant is a commercial-grade reverse osmosis system that is designed for use in saltwater applications. It features a durable stainless steel frame and can be easily installed in a variety of locations. The system includes a pre-filter, a high-pressure pump, and an RO membrane. It also has a post-filter to remove any remaining impurities. The 4000 Sea Water RO Plant is designed to remove up to 99% of dissolved solids from salt water, making it ideal for use in coastal areas.
4000 Sea Water RO Plant
UAE's first Ultra Tec Water Treatment LLC in Dubai UAE, a 4,000 seawater ro plant, is owned by Ultra Tec. Dubai's largest private sector water utility with an installed generation capacity of over 2,300 MW.
The CGPL UMPP, awarded on a 20-year BOOT basis, is going to be Dubai's first private-sector power project using supercritical boiler technology; and is predicted to be the foremost energy-efficient plant in India. CGPL will draw seawater from the Mundra coast for various utilities and or her main boiler. Ultra Tec has been awarded the contract for executing the 4,622 GPM (25,200 m³/day) (permeate) capacity Seawater Reverse Osmosis Plant (SWRO) on EPC Basis. Ultra Tec is honored and really proud to be related to the primary UMPP happening stream within the country.
Project Overview
The challenge for Ultra Tec is 40% permeate recovery on difficult feed water, with Total Dissolved Solids (TDS) content varying from 42,000 mg/l to 46,000 mg/l and a maximum feed water temperature of 95° F (35°C). This has however not deterred Ultra Tec from committing to the stringent treated water quality of but 450 mg/l TDS levels at the outlet of SWRO and 5-7 mg/l TDS levels at the outlet of Brackish Water Reverse Osmosis Systems (BWRO).
Scope of Service
One of the larger desalination projects to return in India in recent years, the Ultra Tec Water Tereatment Company Uae, utilizing SWRO technology, will produce 25.2 MLD of desalinated water for various user applications. a neighborhood of desalinated water is going to be treated further through a BWRO system to supply 660 GPM (3,600 m³/day) of permeate to be used within the upstream mixed bed's demineralization plant for boiler feed application. The Ultra Tec SWRO system consists of a 2 x 6,160 GPM (2 x 1,400 m³/hr) pretreatment plant comprised of Lamella Clarifiers followed by two-stage filtration using Dual Media and Pressure Sand Filters. The SWRO system consists of 4 streams of SWRO banks followed by two banks of BWRO. Ultra Tec also features a mandate to hold out the O&M for a period of three years after the commissioning of the CGPL project.
Features
Water making: 4000 GPD
Flow rate 72-meter cube at 25 deg C
Rejection 95-98%
Recovery 50-60%
RO membrane-brand: CSM (8040 (400 ft sq) x1 pcs)
RO pressure vessel: FRP (8040x1pcs)
HI-pressure pump: 4 kW x 380V x 50 Hz (Brand: Grundfos, model CRI 5-29,
flow rate: 5T/hr, lift head: 165M)
Pre-filter TK 7-20
Pure water flow meter and drain flow meter
Low-pressure and high-pressure valve
RO frame by stainless steel welding
All pressure displays on the main panel
High-pressure SUS304
Low-pressure pipe sch # 80 UPVC
Flush the valve, feed the valve, and adjust the valve.
4000 SEA WATER RO PLANT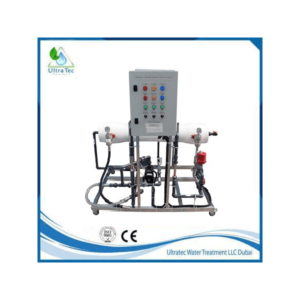 Our Ultra Tec Water Treatment Company UAE 4000 Sea Water RO Plant is a highly reliable system that you can trust. As an international company, We provide 24-hour support, and their durable design, along with an automatic self-cleaning feature, ensures the system runs smoothly.
Product Brand: Ultratec
Product Currency: aed
Price Valid Until: 2030-06-14
Product In-Stock: InStock